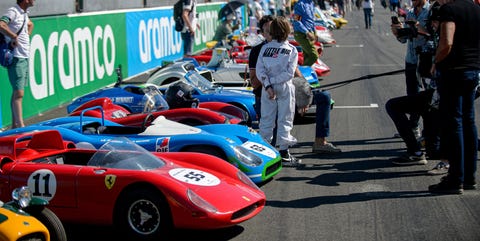 CHRISTOPHE JOUNIAUX
Le Mans Classic is a weekend at the legendary racing venue that recalls eras past. This spirit is kindled by the hundreds of vintage cars racing around the famous circuit, as well as in the paddocks and the vast enthusiast corrals. Reserved for cars from past decades of the 24 Hours, and this is the only opportunity to see these cars run the track similar to how they would have back in the day. While this year's 24 Hours of Le Mans endurance race ran from June 11–12, the Classic, which took place a little less than a month later, might just be the one to put on your bucket list. Here's why:
Advertisement – Continue Reading Below
Since its inception in 2002, Le Mans Classic has been held every other year except for 2020, which was called off in the wake of the COVID-19 pandemic. But it's been gaining momentum in a hurry: When the last Le Mans Classic took place in 2018, it drew more than 1000 drivers and 195,000 spectators. This year, there were more than 200,000. Combine this with the sheer tonnage of historically significant race cars on hand, and you have a classic racing enthusiast event with just one rival.
Le Mans Classic is a celebration of the 24 Hours race. Cars eligible to race are limited to models that could have raced in the Le Mans of their time, with further priority given to cars that actually ran the 24 Hours. Grids are divided into six eras of Le Mans racing, ranging from 1923 to 1981, but the weekend action is nonstop; there are marque-specific Porsche and Jaguar runs, an Endurance Racing Legends run, and a do-not-miss Group C race of 1982–1993 Le Mans cars—earplugs are advised when those cars crack by.
These aren't parade laps. The racing between these valuable cars is competitive, and anything can happen. This year, a major oil leak red-flagged the Jaguar Classic Challenge race just six minutes from the finish, completely reshuffling the front four cars vying for the win. In the end, a 1963 E-Type Low Drag Coupe edged out a pair of 1965 E-Type 3.8s.
Four of the six Le Mans-era grids even honor the tradition of the Le Mans start, with drivers sprinting to their cars across the track to start the race.
The racing isn't just for adults. The Saturday session of this year's Le Mans Classic once again featured "Little Big Mans," where seven- to twelve-year-old drivers take gas and electric replicas of classics through an abbreviated 2.5-mile course. It's worth watching. (These "replicas" are incredibly detailed scale versions of the real deal, and many have quite a bit of go.)
With a police motorcycle escort leading the way, Little Big Mans is explicitly not a race, but we're talking about seven- to twelve-year-olds here: stuff happens. You haven't lived until you've seen a fully-enclosed miniature Porsche 917 tear out of the pits.
The Le Mans Classic caters to car clubs. Make-specific clubs are grouped together, and the sheer number of cars in many is astonishing (even through the jaded eyes of a longtime car writer).
In the Porsche lot, row after row of 911s stretches as far as the eye can see, with rare Clubsport, RS, and Turbo cars speckled in liberally. Elsewhere are entire rows of GT40s and classic Ferraris, many of which actually competed in the 24 Hours.
Participation isn't limited to make-specific clubs. Themed clubs with ten or more cars are eligible for the Le Mans Classic, and each has its own section of the display area. You'll find packs of Endurance racers or Group C cars together here, including the trio of 1988–1991 Jaguar XJRs that swept the podium this year.
The most exclusive club of all is a mixed-make club. The Le Mans Heritage Club consists of 24 hand-picked cars, all of which have run the 24 Hours at some point from 1923 through the present day.
General admission tickets get you really good access, including to the club enclosures and manufacturer display areas, which teem with historic and contemporary cars. There are also exhibitor villages with vendors of all types, from auto-themed art to parts and pieces, assorted tchotchkes, and even spots to get a quick haircut and shave.
If you get racing fatigue, there's always the Drive-In, an outdoor movie theater with comfy deck chairs where you can put on a set of headphones and take in films such as Mad Max, From Russia with Love, and more—all the while surrounded by some of the most unique cars ever built.
Higher-end tickets can place you either with a 180-degree view of the starting line and Dunlop curve, or on the front row above the starting line, with extras such as a gourmet breakfast, lunch, and dinner. Afternoon and evening open bar hours are also included.
Other add-ons offer options to explore the paddock area and even get on the track itself, such as with a track discovery lap or Jeep excursion. Privilege tickets and club participants even have the option to take a short helicopter flight over the circuit.
It's as easy to bump into a legendary driver as it is to trip over a famous race car. There were no fewer than seven former winners of the 24 Hours participating in the 2022 Le Mans Classic. In addition to piloting the classic vehicles around the track, many of the pro drivers also participate in autograph and photo sessions.
The Artcurial auction returned to Le Mans Classic for 2022. Memorabilia, motorcycles, and cars crossed the podium during Thursday, Friday, and Saturday sessions. This year's highlight was the 1980 Porsche 935 L1 "Baby", which participated in 1981's 24 Hours of Le Mans, 6 Hours of Silverstone, Brands Hatch, and Nürburgring.
This content is created and maintained by a third party, and imported onto this page to help users provide their email addresses. You may be able to find more information about this and similar content at piano.io
Advertisement – Continue Reading Below